It's hard to think about November whilst basking in England's July weather, but what about this World Cup and our run-in to the last 16. Is it feasible, will we make it? Well, this is England and it's at Xmas so anything can happen. Check out our rundown of our first three opponents here:
Iran
The Iranian football team is the highest ranked team in Asia and have triumphed in three Asian Cups in 1968, 1972 and 1976. And the Iranians are just mad for this match!
Although widely unnoticed here in England, the draw for the average Iranian football fan has been huge, social medias over there exploded after this match was announced. A lot of the hysteria stems from Iran's social attitudes toward the English, check it out it's funny. Did you know an Iranian author named Iraj Pezeshkzad penned a book called My Uncle Napoleon? Released in the early seventies it's a monumental poke at Iranian attitudes towards England, I didn't personally know they had issue with us. Though, I'm hardly surprised.
And if that wasn't enough, the USA team was also picked to run their team out against both Iran and England in the early stage. In Iran, the US is often referred to as Satan!
Fascinating for Iran, but what is slightly intriguing is the fact that England have never played Iran before at a high level. And it's England's first match of the tournament. What could go wrong?
Since the Iranian revolution the national team have made steady progress, they beat the US team in 1998 and have made it to several World Cup tournaments. Along with the progress has been the unwilted support from football fans from across all regions of Iran. Qualifiers and tournaments have brought Iranians out on to the streets to celebrate their teams' performances on countless occasions.
Come kick off against England the Iranian fans will no doubt be out again giving full support to their team. Though in England I doubt the jubilation for this match will be of equal footing. We are expected to win, but then again aren't we always. The Iranian team will no doubt give it their all, England will not be given an easy time and it'll be interesting to see how they fare in this opener.
USA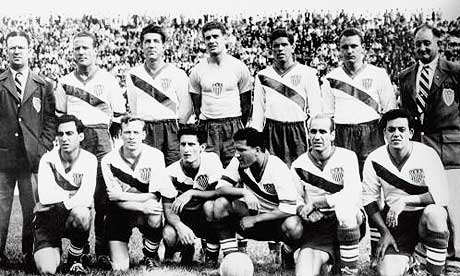 Playing against the US is not new for England, nor is the US team's excitement for the match. This will be the twelfth time England have squared up to the US on the football field.
They first met in 1950, England's first World Cup appearance, where the US took the honours with a hard fought one nil victory. The match was noted as being the first major upset of the history of the World Cup competition. The US team had been put together hastily and comprised of part-time players and at odds of 500-1, not much was expected from them. However, they fought hard and stood their ground against some of the world's top players. England went into the match as firm favourites and the opening minutes saw the English have half a dozen attempts on goal thwarted. The US managed an attack just before half-time and they got what was to be the winning goal. The news, amazingly, was dismissed at first as newspapers across the globe thought it to be a joke. And the story of the goal scoring hero is for another time, Gaetjens deserves a lot more recognition for what he did that day on the field.
Since then, both teams have competed in several friendlies and the odd tournament too. Victories for the US, away from tournaments, hasn't been great. In all, out of the eleven matches played, England have won eight in total, drawn one and lost two. Let's not mention we won all the friendlies with the losses and draw split in the tournaments.
We doubt the US will be taking this tournament in their stride, we expect them to fly out of the traps against England and give it their all. We had a chance to settle the score in 2010, but only managed a draw. This match doesn't seem to be bothered about hero's, it's certainly down to what happens on the day between these two.
How this match pans out is any one's guess, but with England's team we can't see anything but a victory for England. But the facts can't be ignored, so if we do win, it'll not be easy…
Wales
England's final match in the World Cup group table matches is against Wales. A team led by local and national hero Gareth Bale; we've heard a lot about him recently and it appears he's decided to work out in the US, before his ultimate finale for Wales on Qatar's World Cup stage.
Wales are not new to the World Cup tournament, having previously qualified in 1958 where they went out against Brazil in a dramatic quarterfinals match. Wales went out 1-nil, with hero in the making Pele scoring the winner, the only goal scored in the match. More about that match can be found here – Wales in the 1958 World Cup.
This will be Wales's second appearance in the World Cup and the first time both England and Wales have ever met.
This is the first time the teams have ever met on the World Cup stage, though the history of matches between the two nations goes back to 1879, an international friendly England won 2-1. Since then, England have almost played Wales, in some form or other, practically every year. With most victories landing on the English side of the UK, which is hardly surprising considering the area of Wales and its low budget teams, when compared to England's.
No matter what happens in the first two matches for these teams, the Wales will be up for this one and will find it hard not to look ahead soon as they arrive. What bragging rights for a Welsh team that manages to beat England or manages to knock them out and go on to qualify over England. This would make every Welsh man proud, and after that qualifying match for the Euros in 2016, you can't really blame them.
World Cup in November
Given the timings for us all in the UK, it is going to be a strange experience this World Cup. Football leagues across the globe will stop mid-season, with the English league resuming on Boxing Day. And we've a strange feeling something odd is going to happen, whether it be an alien invasion or a Welsh victory against England after them suffering defeats from both US and Iraq. We just can't put our finger on it but a World Cup tournament any time of the year is always going to be great fun for all football fans!