Many from the footballing world of yesteryear will recall Ian St John, the Scottish football player who after a successful football career naturally embarked into football management before becoming a big success within the world of football punditry. Many of us, from the younger generation who were not lucky enough to witness him on the field, will remember him from the Saint and Greavsie football show.
If you would like to be lucky enough to own a piece of footballing history directly related to Ian St John then we have this autographed picture of Ian in action for Liverpool, we think this was signed sometime in the late 60s. To purchase this signed image simply follow this link - ian st john autographed pic.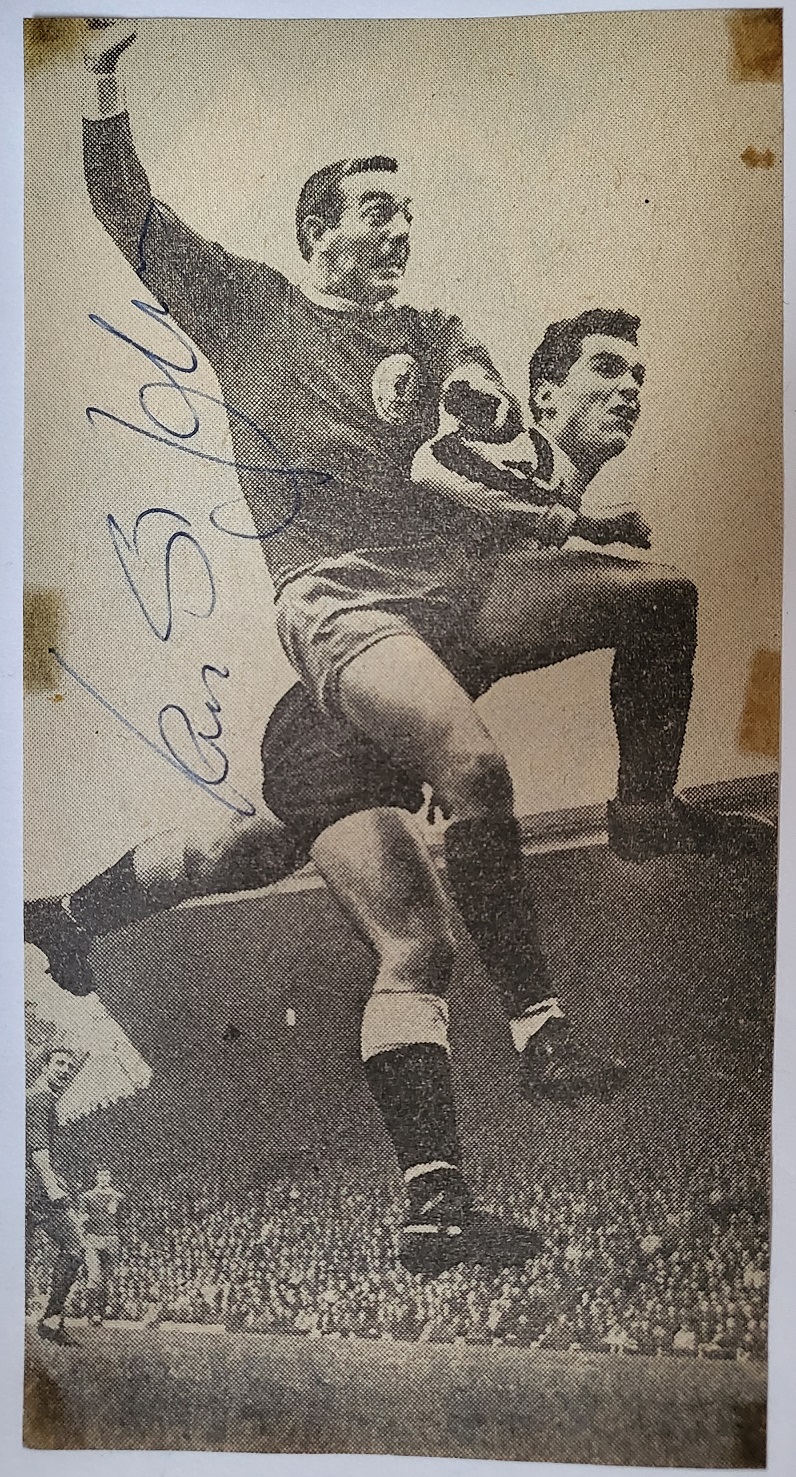 The beginning
Ian's professional footballing career began when he was signed by his hometown team Motherwell in 1957. Back in the 50s a footballer's career was vastly different to what it is today, as Ian, like many footballers during this period, continued with a second part-time job as an apprentice engineer.
His first professional match for Motherwell came against Queen of the South. During his spell at Motherwell Ian also achieved a hat-trick of goals against Hibernian, a fete which took him just two and a half minutes. This achievement is still in the record books of Scottish football, going down as the fastest hat-trick ever scored at professional level.
Managed by Ancell, who put a squad together that earned the nickname Ancell Babes, consisting of the likes of Willie Hunter and Andy Weir, to name a few.
The first step into his football career resulted in 144 appearances for Motherwell, where he notched up an impressive 105 goals.
Liverpool Move
It was in 1961, as Shankly was sowing the seeds of his Liverpool team, that Ian St John was transferred on to Liverpool. A side, which at the time, were labouring in Division 2. The transfer came at a price, with Liverpool paying twice what they spent on players the previous season, a total of £37,500 was paid by Shankly to bring St John to Liverpool.
St John made his debut for Liverpool in the Merseyside derby, where he managed to score all three goals for Liverpool, who unfortunately lost the match 4 - 3. Still, not a bad way to announce your arrival to the English game.
During his first season for Liverpool, he managed to bag a total of 18 goals, all but missing two matches throughout the season, making a formidable paring with his new strike partner Roger Hunt. Shankly, once retired, named St John as pivotal in bringing Liverpool back into Division 1. A fete he achieved in his first season, then in his second season playing in division 1, St John managed 18 goals in 40 matches, and helped Liverpool reach the semi-finals of that season's FA Cup.
This was just the beginning for St John, who helped Liverpool achieve great success the following season, and this continued throughout his career with them. He played a major part in Liverpool's victory in the FA Cup of 1965, which saw Liverpool winning the cup for the first time in their 73 year history.
Character
Ian St john was a combative player, who took no lip and would never step back from a challenge. A fine example of the fiery Scotsman's temper was witnessed at Craven Cottage where he punched a player after having his hair was pulled. He didn't even wait for the red card to be shown…
Not a tall figure, but what he lacked in height he more than made up for with his skill and spring like step which enabled him to become a prolific goal scorer, and his eye for positioning and vision left many a defender behind.
He stayed with Liverpool as he reached his early 30s, before retiring after notching up 425 match appearances and managing 118 goals.
After leaving Liverpool St John played over in South Africa for a short spell before returning to the English League to play for Coventry City. He then, officially, retired in 1973 after a short stint for Tranmere Rovers.
Scotland Career
Along with achieving success at club level, St John also played for his country on 21 occasions. His first match for Scotland was back in 1959 and over his international career he notched up an impressive 9 goals.
Management
Not being able to stay away from the game, like many successful footballers, St John also delved in to football management. His first appointment was with the club where his footballing career began, back at Motherwell. Not achieving great success for Motherwell, where he spent just one season in charge before moving to take over at Portsmouth.
Ian St John spent 3 years managing Pompey, where he was assisted by former Motherwell teammate, Willie Hunter. After his time at Portsmouth, he went to work with Coventry and Sheffield Wednesday before embarking on his TV punditry career in 1979.
TV
It was working on TV that also helped St John establish himself even more within the realms of footballing folklore. He went in forming a great TV partnership with Jimmy Greaves, making one half of the Saint & Greavsie show, which aired from 1985 – 1992.
A great believer in grass roots football, St John helped set-up many football academies across the UK.
Obituary
Ian St John sadly passed at the age of 82 years, after suffering with bladder cancer, which eventually took him in April 2014.