Born in Belfast, 22 May 1946, George Best went on to become one of the most revered football players in English footballing history.
Naturally gifted, with a turn of pace that left many a defender flat footed, George Best's antics on the field we're almost reflected in his everyday life, in terms of flamboyancy.
Man United Career
Signed at 15 and had his first outing at the age of 17, his first goal came on his second appearance. His impact was felt across the team, going on to win two league titles and a European Cup by the age of 22. He rounded off the season by collecting the Ballon d'Or, becoming the youngest Footballer of the Year winner too.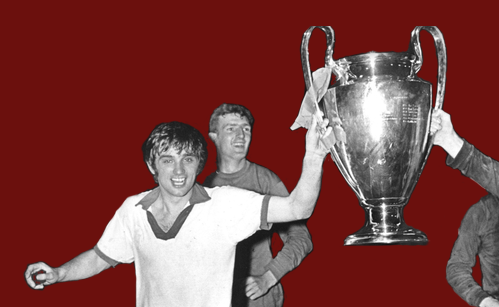 Success
He was named Footballer of the Year in 1968, having carved up and down the wing for Man United since 1963. Best had it all, a skilful touch, rapid pace, and an eye for a pass as well as goal; notching up 137 goals for Man United, during 361 appearances.
The season he was voted Footballer of the Year was at the end of the season, having landed the accolade of Top Scorer with 29 league goals. Winning the European Championship Cup is also worth mentioning, he had a fantastic season.
Hardly a season passed without him helping Man United win more silverware. His achievements landed him great fame, and many say he became the first, of many, footballing celebrities.
1965 & 1967 - League Winner
1968 - European Cup Winner
1968 - European Footballer of the Year
1968 - Writers Footballer of the Year
Leaving Man United
It's no secret that George enjoyed the joys of his fame, late nights out drinking, and often seen out partying around the night clubs of Manchester.
Many have suggested it was this that led to his downfall on the pitch, and so ultimately the door out of Manchester United. Though, recently it had been cited that the alcoholism was of direct result of the high standards he set himself on the pitch. And that when he failed to do as well as what he thought he could, he'd hit the drink.
Whatever the reasons, many were privileged to watch an exceptional great for a decade.
Playing Career
George joined Man United in 1961, and played amongst the youth ranks until his debut in 1963 which came against West Brom. Before United he played for his local team - Glentoran, where he struggled due to his height and light-look, this didn't deter United scout Bob Bishop, who hailed him as a genius!
1961-1963 - Manchester Utd Youth
1963-1974 - Manchester Utd - 361 Appearances/137 Goals
1974-1975 - Jewish Guild/Dunstable Town - 5 Appearances/1 Goals
1975 - Stockport County - 3 Appearances/2 Goals
1975-1976 - Cork Celtic - 3 Appearances/0 Goals
1976 - LA Aztecs - 23 Appearances/15 Goals
1976-1977 - Fulham - 42 Appearances/8 Goals
1977-1978 - LA Aztecs - 32 Appearances/12 Goals
1978-1979 - Fort Lauderdale Strikers - 28 Appearances/6 Goals
1979-1980 - Hibernian - 17 Appearances/3 Goals
1980-1981 - San Jose Earthquakes - 56 Appearances/21 Goals
1982 - Sea Bee - 2 Appearances/0 Goals
1982 - Hong Kong Rangers - 1 Appearance/0 Goals
1983 - Bournemouth | Brisbane Lions | Osborne Park Galeb | Nuneaton | - 13 Appearances in total/2 Goals
1984 - Tobermore United - 1 Appearance/0 Goals
On the international scene George made a total of 37 appearances for Northern Ireland, scoring 9 goals. Probably one of the greateat players to never play at the World Cup.
Belfast Boy Print
We've worked on several George Best prints, get in touch if you wish to purchase any; available in A3, A4 or A5 sizes. Check out our prints page for more rare football prints.